With cmReg COVR provides on-site registration services including hardware, software, operator training and IT support staff. COVR automates payments, onsite (self) registration and badge printing handling multiple ten-thousand participants check-in in record time without queues.
Fully equipped pre-registration area
onsite registration area with self-registration terminals
hardware rental and on-site support
management of lanyards, badge paper, hostesses, …
Use cmOffice or your database
cmReg can be configured to work directly with cmOffice so that on-site changes and new information can be available without effort in your cmOffice database right after the event. If you don't use cmOffice, no problem. We can import from and export to any open standard database or even set up a live connection to your existing systems.
Worry-free onsite registration
The best way to impress attendees from the start is to ensure fast service at the peak time when they check in onsite. With cmReg, waiting lines are a thing of the past. We work with you on analysing the required onsite registration stations. We install them at the venue and we train hostesses to operate them to ensure that each attendee can check in, in seconds.
Satisfied delegates
Don't just take our word for it. We currently support about 20 conferences each year and have handled audiences up to 18.000. One of our clients recently surveyed their attendees and found that more than 90% of the participants were highly satisfied with the onsite registration.
Stand-alone or fully integrated
cmReg can be used as the only COVR solution at your event, or we can provide tight integration with our other solutions: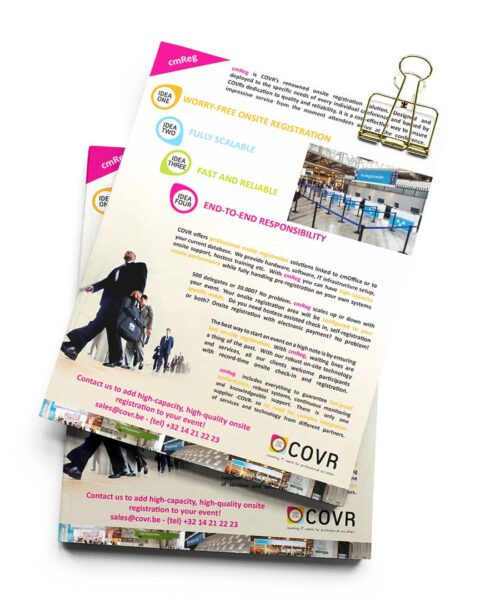 Want to know more about cmReg?
The topics we've covered in our onepager are:
How to combine your performance with at the same time pre-registrations
How to provide excellent service to your attendees
How we adapt to your needs and the size of your conference
Download our free whitepaper