cmSlide
cmSlide is COVR's intelligent presentation management system which ensures professional on-site support for speakers to submit their latest presentation version at the conference and fast onsite distribution to session rooms.
Presenter support
When arriving onsite, presenters submit their presentation in the cmSlide speaker centre. Their presentation is uploaded to the central server, and made available for pre-viewing and rehearsing in the speaker preview area. During upload, cmSlide performs automatic quality verifications which will ensure optimal functioning during presentation. These check include verification of links, compatibility of embedded videos, etc. When problems are detected a COVR operator assists presenters in making the necessary changes.
Presentation dissemination
After upload and review, presentations are automatically transferred to the correct presentation room. To accommodate this, COVR deploys a dedicated network linking each presentation room to a central server. Presentations are stored centrally as well as in each meeting room to ensure continuing performance in case of network failure
Session Management tools
A dynamic agenda allows seamless starting en ending of presentations in session rooms.  Cue-lights and limitimers can be made available for speakers as well as for session chairs to ensure keeping session on schedule
Accurate monitoring
Especially in large events, keeping track on the status of submitted presentations can get very laborious. cmSlide includes status verification which can report on received presentation by session, track or by presentation time. Speakers who do not submit their presentation in time can be notified by SMS, or lists for telephone follow up can be produced at any time. When used in combination with cmReg, comparative reports can indicate whether speakers with missing information have already checked in onsite.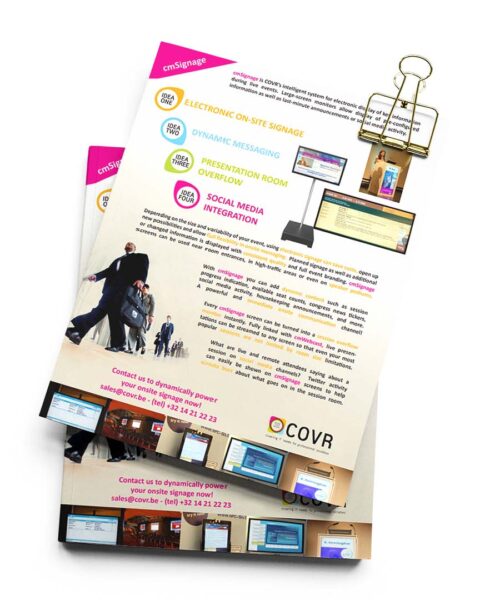 Learn more about cmSlide
The topics we've covered in our onepager are:
cmSlide as a tool to support the presenter
cmSlide lets the presenter focus on their presentation. We concentrate on the technical aspect
Download our free whitepaper