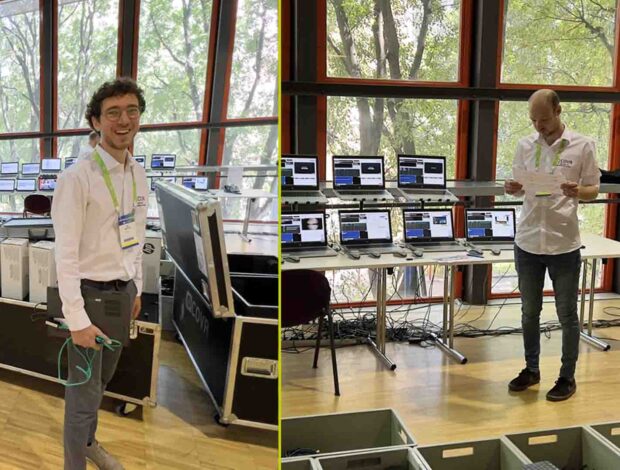 Our team
Managing IT at congresses: preparation, dedication and teamwork
09/01/2023 - 4 min read
Last summer, the 38th annual meeting of the European Society of Human Reproduction and Embryology was held in Milan. Deploying and successfully operating the IT systems for such a large hybrid congress can only be done effectively through careful design, preparation and flawless execution. Ward and Jory, both system engineers, testify how COVR prepared them to excel at their first congress assignment.
A first congress testimony of two system engineers
Their story shows the cornerstone importance of well-designed procedures, vigorous staff training and committed team spirit. In addition to innovative solution development, this is what makes COVR stand out as a congress IT provider.
Ward and Jory, you both attended ESHRE. What did you think when you were asked to support the congress?
Ward: "The question to support congresses actually came over a year ago. I was excited and said yes right away. As a systems engineer, the skill of designing and preparing full IT systems so that they can be put in production in a short time-window is very valuable. Learning from COVR's many years of experience is a growth opportunity."
Jory: "I didn't hesitate and immediately said yes. In addition to becoming effective in supporting congress solutions I was also attracted to being part of such a well-oiled team. My expectations were surpassed by discovering that this even goes beyond the COVR team. During the congress COVR and the association staff operated as one coherent group."
What were your expectations?
Ward: "I did have some expectations and they were completely fulfilled. It was a busy week with long days of hard work. But aiming so high and pulling together to make it happen as a team is very energizing. Going to a congress is a great teambuilding activity which ensures we work perfectly together."
Jory: (laughs). "It was our first congress and immediately this year's largest one, so it was hard work from early in the morning until late at night. Still, it was very enjoyable and the week went by really fast. What helped us, was the fact that we were very well prepared. A great demonstration that thorough preparation is half of the success. The other half is teamwork, dedication and expertise. Great to see how well-versed our colleagues are in the latter."
What did you do to prepare for the congress?
Ward & Jory: "Actually, that was discovery number one.  Success is not only achieved by the maturity and effectiveness of the technology. Staff training is equally important and we immediately experienced how COVR ensures this."
"We were given a series of six training courses in which we got an in-depth explanation of the entire setup. After the training sessions, it was time for the actual work: preparing for the congress."
"The preparations contained setting up all the equipment and software in our own environment. This included installing cmOffice (our database system) and all of COVR's on-site software such as badge printing, presentation management, live-streaming, etc. Once all systems were configured with the congress' specifics, all the devices were prepared for the correct locations and functions on-site.  When everything had been installed, everything was put into flight cases, ready to leave for Milan."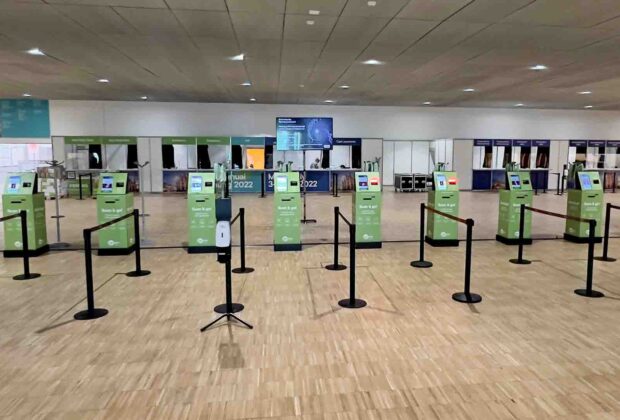 What was expected of you onsite?
Ward: "When we arrived, we started preparing to setup the registration area as this area opens  before the lecture halls. Registration included 'scan and go' badge printing kiosks, self-service onsite registration, and badge printing kiosks for groups. It's like setting up an airport check-in system in a day, fully functioning that same evening."
Jory: "Once onsite, we immediately started building up with full force. On Sunday, the registration started so I assisted there first. Thousands of people (literally) came in at the same time, so you can imagine that some additional help was very welcome. Luckily, there was a solution for every challenge we faced, because of the great training courses we followed before."
"After that, the lecture rooms had to be set up for the next day. There was another example how smart design and preparation saves time and money and adds reliability. The presentation management and live-streaming systems were pre-configured and mounted in ready-to-go racks. These are simply rolled into place and connected to the venue infrastructure. In no-time, the testing for local performance could begin."
Ward: "With everything which needed to be set up, it almost seemed like professional sports. (laughs) At the end of every day I had an average of 25 000 steps."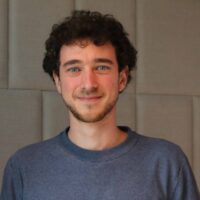 "There was a solution for every challenge we faced, because of the great training courses we followed before."
What was the absolute highlight for you at the congress?
Jory: "The speed of going from bare halls to a full-functioning high-tech environment where thousands of participants are using the technology as it has always been there."
Ward: "The hard work. But giving it your all with the whole team, is really satisfying. The priority is making sure that all equipment works perfectly. That's the responsibility of our team. Noticing that people were enjoying the congress and everything works fine, was very rewarding to us."
Then the last question for you guys: would you like to go to congresses more often?
Ward: "Check! My calendar is already filled with more congresses and I am eager to take on more responsibility."
Jory: "It was an amazing experience so I'm always in for another congress!"
Interested in working with a committed congress IT team?
… backed by innovative solutions and decades of experience? Contact us and tell us more about your event needs.