cmHybrid
Hybrid events are here to stay! Forced to go virtual due to the pandemic, associations attracted new participant categories, extended the event's life-cycle and enlisted otherwise-unavailable faculty.
Your advantages?
Increased reach & attendance
Extended content life-cycle
New sponsorship opportunities
cmHybrid – The key to your Hybrid Congress
Seamless integration of onsite and remote presentations and Q&A
Ecellent experience for onsite and remote attendees. New synergies & attendee engagement
Interactive session formats, live & on-demand, e-posters & poster discussion, networking, exhibition, interactive advertising banners, advanced analytics, …
Leveraging technology, increasing ROI
Delivered by an experienced technology specialist
Maximise your onsite investment. Bring it online!
Fully leverage your onsite technical setup with hybrid-technology extensions.
Generate sponsor revenue. Provide prime and measurable visibility with interactive banner advertising. Keep sponsored lectures and virtual exhibits available long after the congress ends.
Provide longer lasting value to all participants with on-demand access to session recordings
Hybrid Works !
Don't take our word for it. Our rapidly growing list of hybrid congress clients continue to draw lasting value form their congresses. We will happily get you in touch with them.
Not all congresses are created equal !
Each congress has its unique requirements and goals. Based on a wide range of standard modules our team delivers a custom solution, optimised for the individual needs of each event. With over 20 years of experience in partnering with congress organisers to provide optimal onsite technology, we know that communication is the key effective collaboration. From the initial needs assessment, throughout the entire congress life cycle, a dedicated project manager works with you to ensure our work and technical solutions match your goals.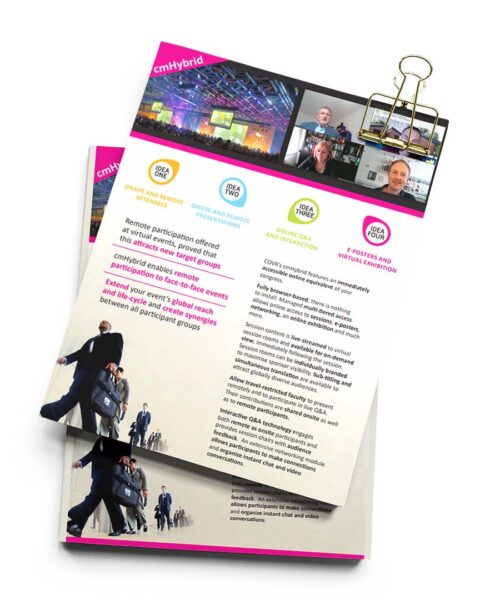 Want to learn more about cmHybrid
Would you like to go through everything in detail? Download the Whitepaper and discover the advantages:
Attract new target groups
Extend your event's global reach and life-cycle
Create synergies between all participant groups
Download our free whitepaper